Hello everyone,
The new issue of Fictional Reality is out and available for download
here
It contains a huge Rezolution battle report featuring APAC vs RONIN vs DRAVANI (with zombies, civilians, and cars racing around the battlefield) that we hope you'll like.
Additionally, you'll find...
Miniatures Reviews: Reaper, Corvus Belli,
Mongoose Publishing
, Eureka and more
Game Reviews:
Battlefield Evolution
, Battleground: Fantasy Warfare and more
Painting Workshop: Heresy Ghoul King painted by Rob Hooper
This is the first issue where all of the article content is in landscape format so it should be easier to read on your monitor, but can still be printed out if you like.
It also contains a special discount coupon from Fantization Miniatures so check out the issue and then head over to
Fantization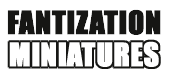 Thanks for reading FR!
Mark Theurer
m.theurer@tx.rr.com