Just something I'd been messing about with: came up with the idea after reading phavoc's VLS concepts - essentially, how do you pack a big opening missile salvo on a small ship within the existing rules?
Suddenly thought of docking clamps holding what are essentially one-use turrets. Queue the corporate logo:
Spinward Ordnance's Self-contained Launcher and Magazine (SLAM) missile pods are an unusual way of adding some teeth to the opening punch from medium and light-weight SDBs. They are most commonly used by system navies with reasonable budgets but limited shipyard capacity, as they provide a surprisingly cost-effective means of up-gunning small vessels in defensive engagements, and SLAM pods are built under license in several systems. By comparison, they do not normally see use with subsector navies or the Imperial fleet because of their impact on the fuel requirements of extended manoeuvres and jumps, and the fact that larger ships can incorporate internal weapons mountings of the same size with ease.

SLAM pod-armed ships are fitted with a 5 dTon pod launch system (to all intents and purposes a docking clamp), and suitable remote operations software on their bridge. This is a relatively compact system (when empty and locked closed) and several can be fitted to most lightweight ships (albeit at a significant cost to manoeuvrability). Spinward Ordnance has successfully retro-fitted SLAM weapons system to many classes of ship – since the pod launch system does not require the high-energy power supplies associated with most weapons system, and (since the SLAM is deployed from the hull prior to firing) arcs of fire do not need to be taken into account, they are far easier to accommodate than a conventional weapons hardpoint. With local space constantly swept by sensors, and repair and overhaul of the pods available in the planetary orbit, they are easy to retrieve and re-use (almost all designs incorporate a compact beacon that can be triggered on command to help locate expended pods).

The SLAM pod itself is deployed from the hull automatically prior to firing, ensuring that its firing systems are clear of obstruction. There are no specific drive systems on board the SLAM pod to separate it from its launching ship, with the changes in vector resulting from evasion and/or combat manoeuvres being more than sufficient to meet this requirement. Orientation is set by a minimal-endurance reaction drive, capable of arresting spin and aligning the pod with a pre-determined bearing but nothing more, and then control is locked in to the remote gunnery systems of the parent ship, and the pod begins firing immediately. Power is supplied by a short-endurance chemical battery (as it is much safer, more suitable for long-term storage, and faster to power up than a fusion plant) that is capable of supplying energy to keep the pod's reaction control system and launcher at 'stand-by' for about half an hour. Locator beacons generally contain their own internal power.

Almost all of Spinward Ordnance's SLAM systems are built on a standard 80 dTon chassis, the most common of which is the SLAM-6 "Sixgun". The "Sixgun" heavy missile pod carries a launcher capable of emptying its six-round magazine of bomb-pumped torpedoes in a single rapid salvo before being discarded, allowing ships equipped with one or more SLAM-6 pods to threaten even heavily armoured and well-protected ships.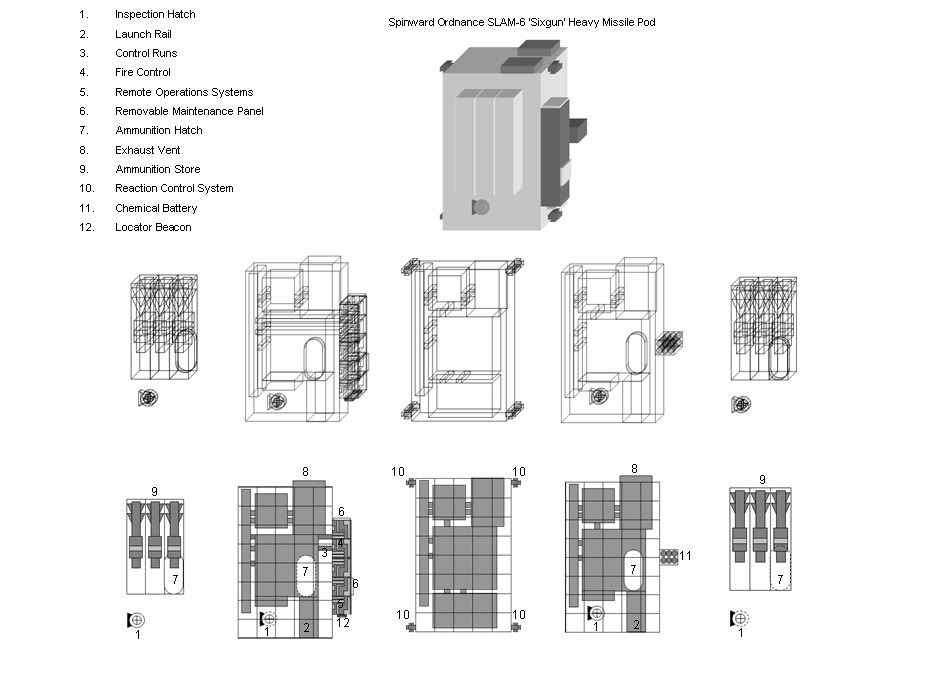 SLAM-6 Heavy Missile Pod
This is a TL12 Design, and the 'standard design' discount applies in any system which builds SLAM pods under license.
Hull: TL12 S8 Hull (80 dTons)
Armour: None
Manouvre Drive: SvD Reaction Drive
Power Plant: SvD Chemical Battery (Emergency Power Equivalent Only)
Bridge: Drone Command Unit (Remote Operations Only)
Computer: None (Requires Control From Launching Ship)
Electronics: Basic Electronics Suite (Uses Targeting From Launching Ship)
Weapons Hardpoint #1: Large Heavy Missile Bay (3 Miniaturisation Upgrades)
Ammunition: 6 Bomb-Pumped Torpedoes
Fuel: 1 G-Turn
Cargo: None
Extras: TL12 Rescue Transponder (See Mercenary)
Maintenance Costs: 4,509cr Per Month
Purchase Cost: 54,103,100cr
Reload Cost: 108,000cr
Essentially a 400-600 dTon SDB could sacrifice a couple of Gs of thrust and come in packing several pods. A couple of dozen heavy missiles added to an opening salvo is no small beer, and - since they can be fired and dumped in the opening moments of an engagement, they don't really impede combat performance of the ship afterwards. Okay, the pod itself is vulnerable, but if you'd rather shoot at the expended pods than the SDB I'm sure the SDB's captain is perfectly happy....
Thoughts?