Hi again,
after seeing the fantastic 3D renderings on the website of Thomas Schmidt (see:
http://www.3dhistory.de/index-frameset_e.htm
)
I decided to gave my GHQ 1/2400 model a bit of a re-paint.
Old version:

New version - The Bismarck as seen on 5th May 1941:

and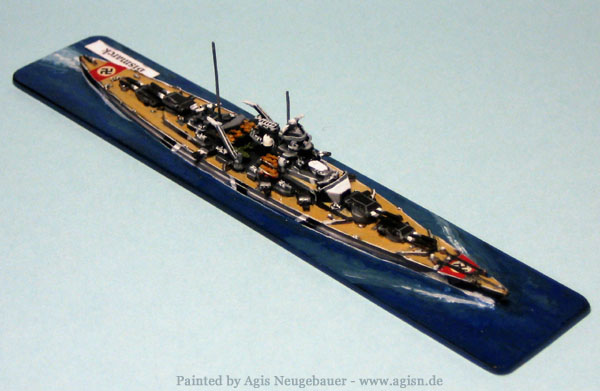 Please note: All markings used, such as the swastikas, are displayed ONLY for historical accuracy and should not be considered as an attempt to glorify war or Nazism.
The symbols do not signify or represent my own personal political opinion.
I am very pleased with the result. I also used for the 1st time a decal on the ship.
IIRC a 1/300 aircraft marking. I had to cut it to the fitting shape.