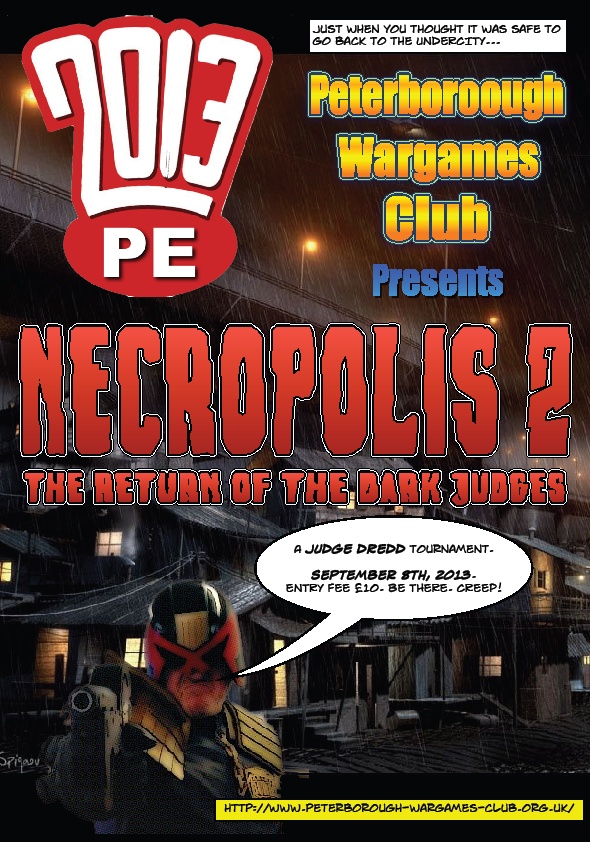 Judge Death and the Dark Judges have returned to Mega City One; only Dredd and the forces of the Justice Department stand between them and the inhabitants of the city. Can the Dark Judges be defeated, or will they succeed in sentencing the citizens to Death?
Choose a side and join in this one-day tournament/campaign, culminating in a multi-player battle for the fate of the city.
Tickets: £10. Contact
committee@peterborough-wargames-club.org.uk
for more details or to book a place.
---------------------------------------------------------------------------------------------
More details:
Players will fight as part of one of two factions; either alongside the Justice Department in defence of the city or in the service of the Dark Judges.
The day includes 6 individual battles (standard, 500 credit forces) fought against members of the opposing faction, followed by a multi-player mega-battle fought on the edge of the Radlands. Players will receive reinforcements for the mega-battle (miniatures can be provided for the reinforcements if necessary). The most successful players after the preliminary games will get the most interesting reinforcements (including Dredd, Anderson and the Dark Judges).