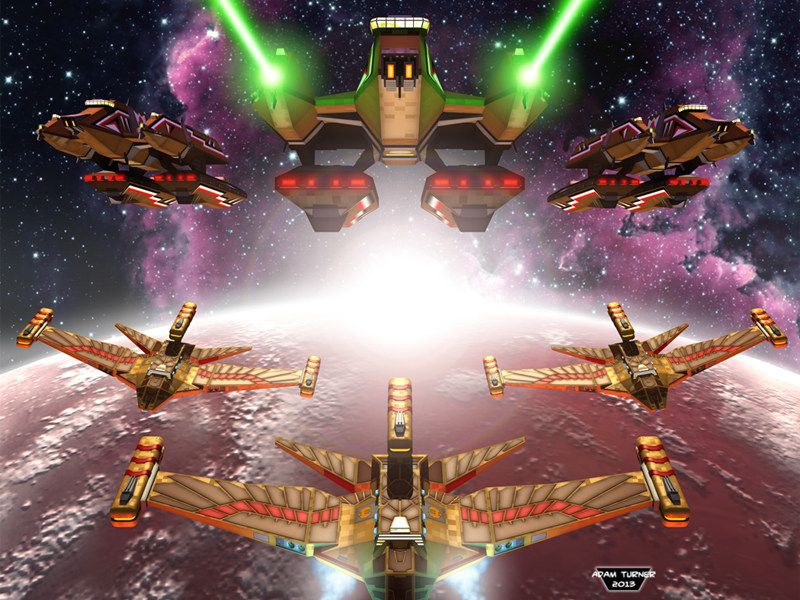 In the history of the Alpha Octant, not every warp-capable species managed to stake a claim for itself on the galactic stage.
On the one hand, you have the "has-beens"; the
Carnivons
(a wolf-like species genetically related to the Lyrans and Kzintis; and who hate, and are hated in turn by, both) and
Paravians
(a bird-like species who evolved from a population of Gorns who had once been seeded on their home world; you can see one of their ships in
these
pics
). The Paravians fell afoul of a Sun Snake in the Early Years, which drove their home sun nova and wiped them out as a species in the Alpha Octant; though they would later become a major player on the other side of the Alpha/Omega Void. The Carnivons, in turn, were (supposedly) slaughtered to the last pup by their feline relatives; though rumours abound of a "last command", a lonely exodus fleet sailing into the unknown in search of a new home.
On the other hand, you have the "never-weres"; the Peladine and Borak. The Peladine (actually two species; the raccoon-like Ranel and dolphin-like Phelen) were slow to expand into space; too slow, as they were caught unprepared at their home planet and forcibly incorporated into the Lyran Far Stars Duchy. The Borak (who look something like
this
; while their ships look like
this
) emerged in what would become the Hydran Old Colonies. During the first occupation of "on-map" Hydran space by the Klingons and Lyrans, the surviving Hydran forces in the Old Colonies "dealt with" the Borak; allowing them to operate civilian ships, but not warships.
Of course, none of the above stopped generations of academy instructors from designing "what-if" ships for these forgotten empires; and even sets of alternate maps to show how things might have been on a strategic level.
In
SFB
terms, the Borak and Peladine are in playtest modules
E3
(the SSDs for which
are listed separately on e23
) and
E4
respectively; while counters for those two "what-if" empires, along with ones to support an upcoming set of SSDs for General War-era Carnivons and Paravians, will be printed for
SFB Module C6
. (If you have any comments or suggestions as to how the pups or chickens should work in the Main Era setting, feel free to pop over to
the C6 development corner of the ADB BBS
.)
And of course, once
C6
is published, the ideas it will offer could perhaps be up for consideration for other games systems; such as
Federation Commander
,
Starmada
, and
A Call to Arms: Star Fleet
...
In the meantime, here is one glimpse at things to come which may upset fans of the Gorns;
Mapsheet P
of a "what-if" take on the
Federation and Empire
map.