This project has been on the cards ever since I worked my way through all of the Ambrose books a few years ago (Band of Brothers, etc.). I already play Blitzkrieg Commander in 1/300 scale for divisional size actions but have long seen the appeal of the totally different feel of 1:1 action!
In October I purchased the Late War German and British 1/72 infantry sets produced by Valiant Miniatures (wow!) and since then have bought 2 x StugIIIG's, 2 Sherman M4's, 1 M4 Firefly (All Armourfast), 1 x FW-190 (pre-painted die-cast), 1 Typhoon (pre-painted plastic). Everything I need for my first two 1500pt lists.
Not wanting to run before walking I decided to produce two infantry lists and play a few scenarios through with these before adding first tanks and then planes…
First up, 1944 Heer Grenadiers (1000pts):
Command squad with extra Team 2 and Heavy Artillery Support (265)
2 Support MMG's (Each 90)
1 Support 8cm mortar (70)
3 Squads, each with panzerfaust (Each 190)
Total: 995pts
First up, the command squad: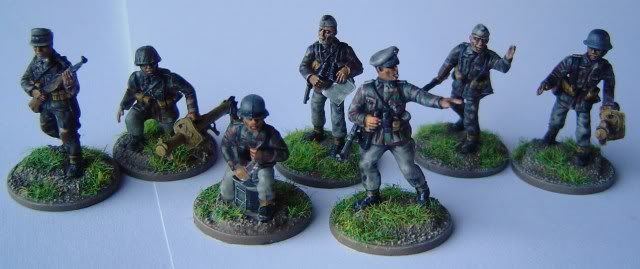 The MMG's and mortar:

The 3 Grenadier squads: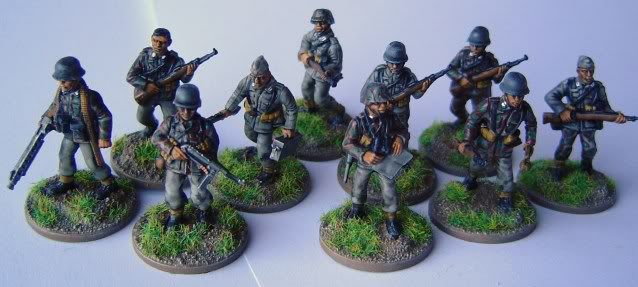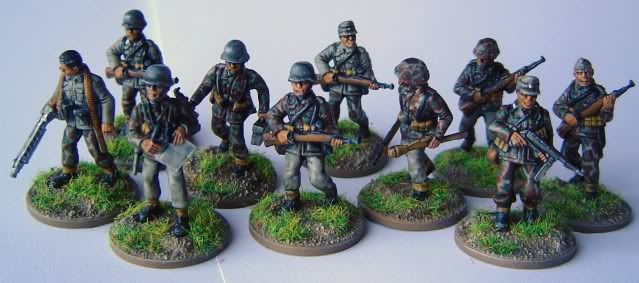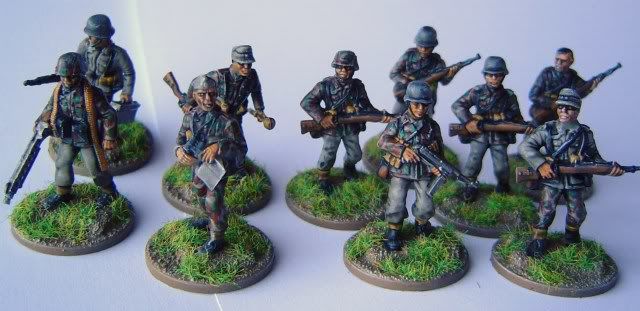 Finally, a close up of squad 3's MG42 team:
I am really pleased with how these have turned out. I LOVE the hard styrene Valiant figures and their conversion potential; I wouldn't advise you to look anywhere else! I've still got loads of figures left from my first box… The late war Splinter Camo. pattern was a challenge, better on some figures than others. I was worried the black wash would give me mud men but in hindsight it was the way to go!
1000pts of British infantry next… Watch this space.