Hello all
Over in another post I mentioned that I might log my progress as I attempt to build two opposing forces for Battlefield Evolution - World At War ...so here goes.
* * *
I have been thinking of getting into WWII wargaming for a while now, and after doing a little research on the internet, BE:WaW sounded just like the kind of thing I was looking for.
Needless to say, the book alone wouldn't be much use to me (since I have absolutely no WWII miniatures), so I went ahead and purchased a couple of boxes of 1:72 scale figures to get me started (as I figured this scale would allow me to build my forces relatively cheaply - and also because I always used to play with these types of figures when I was a kid
).
Here's what I have got: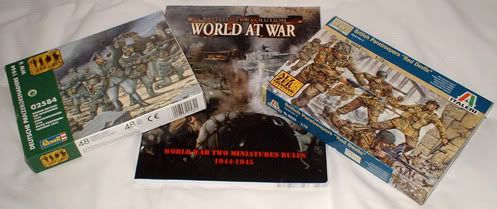 The German figures are the better of the two, and one sprue alone (you get 3 sprues in the box) is enough to build a full SS Command Squad and two 'Team 1's' for two regular SS squads (which is pretty much the minimum requirements when building a platoon).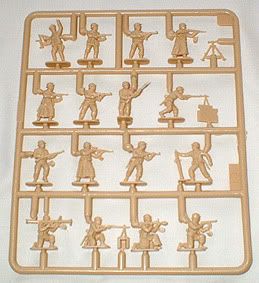 Now I'm not a fantastic painter or anything like that, but here's a quick picture of the Command Squad (Team 1) that I've got finished:
I've also nearly finished Team 1 of the first squad - so hopefully a few pictures of them will be following shortly.
Also, this just arrived...
...but I think I'll try to finish off the compulsory infantry models first before starting on one of those