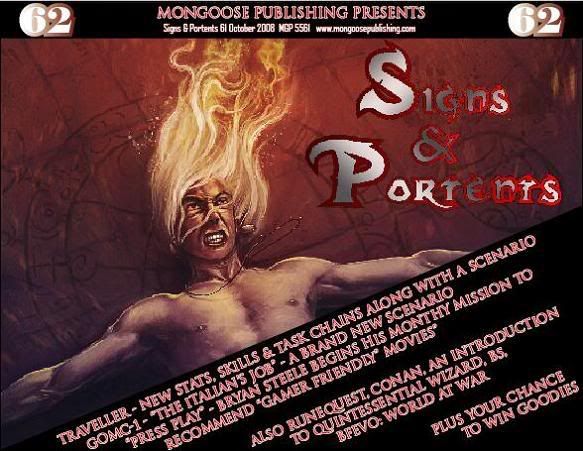 In this month's issue;

 Press Play – Mongoose writer Bryan Steele begins his monthly mission to bring gamer friendly movies to the masses with his series of reviews

 Ghost Of A Chance – A new RuneQuest Scenario by Carl Walmsley

 The Italian's Job – Mongoose's own Nick Robinson has created this campaign for GOMC-1



Wildlife and Monsters In Atlaia – A Conan article by Vincent N Darlage

 An Introduction to Quintessential Wizard – Marco Picone reveals what you can look forward to from this new D&D 4e release

 Jury-Rigging #2 – Stats, Skills and Task Chains for Traveller. Part of Gareth Hanrahan's infrequent series of Traveller supplements

 Mongoose News – find out all of the latest news, including this months new releases, from Mongoose Publishing

 Shermans – Revised forces for British and US units in Battlefield Evolution: World At War by Agis Neugebauer

 Fantasy Regimes – A generic supplement for inclusion in a wide range of RPGs, by Uri Kurlianchik

 B5 Open Day – All of the action and photos from the day by Katrina Hepburn and Sandrine Thirache

 At Your Throat – A brand new Wraith Recon Mission by Gareth Hanrahan

 Trilemmas – Previously unseen Babylon 5 material by Gareth Hanrahan

 The Fall Of Rigella Namsey – A new Traveller scenario by Nick Robinson

 Go For The Eyes – A Supplement containing six ocular creatures for inclusion in your RuneQuest campaigns by Chris Longhurst

 Plus your chance to win a copy of S&P signed by Claudia Christian

http://www.mongoosepublishing.com/home/ ... sSeries=13
New article by Vincent Darlage! Been awhile!