Cosmic Mongoose
Posts: 3675
Joined: Sat Dec 01, 2007 4:28 am
Cosmic Mongoose
Posts: 3675
Joined: Sat Dec 01, 2007 4:28 am
Cosmic Mongoose
Posts: 3675
Joined: Sat Dec 01, 2007 4:28 am
Cosmic Mongoose
Posts: 3675
Joined: Sat Dec 01, 2007 4:28 am
Cosmic Mongoose
Posts: 3675
Joined: Sat Dec 01, 2007 4:28 am
Cosmic Mongoose
Posts: 3675
Joined: Sat Dec 01, 2007 4:28 am
Cosmic Mongoose
Posts: 3675
Joined: Sat Dec 01, 2007 4:28 am
Cosmic Mongoose
Posts: 3675
Joined: Sat Dec 01, 2007 4:28 am
Cosmic Mongoose
Posts: 3675
Joined: Sat Dec 01, 2007 4:28 am
Cosmic Mongoose
Posts: 3675
Joined: Sat Dec 01, 2007 4:28 am
Cosmic Mongoose
Posts: 3675
Joined: Sat Dec 01, 2007 4:28 am
HYRKANIA!
If you want to set your game among the masters of the saddle, the Nomads of the Hyrkanian steppe, I have a suggestion for you. Check out an old Forgotten Realms three-part series that takes part in that universe's Horde setting.
FRA1 - STORMRIDERS

FRA2 - BLACK COURSER

FRA3 - BLOOD CHARGE
These adventures will provide you with some excellent ideas. You can follow the plot as closely as you want. I've thought about just taking pieces of them, and playing them out of order, to create a cool Hyrkanian campaign. Or, play the story closer to how it is told in these adventures--you just have to Conan-ize the adventures.
I think that these would do well to be set in northeastern Hyrkania, near the mountains, with Khitai not too far to the east. Since there is no published Hykania supplement, you'll have to create Hrkania in the game as best you can, based on your knowledge of the place. There are a few novels and several comics set in this area--stuff to use for background. And, most of what is presented in the adventures above (and probably the
Forgotten Realms Horde
boxed set) will also do to create this area.
You may want to look a the
KHITAI
supplement--it was the last supplement that Mongoose produced for the Conan RPG.
Also skim through the
Conan articles in Signs & Portents
. Some of them focus on the Nomads of Hyrkania.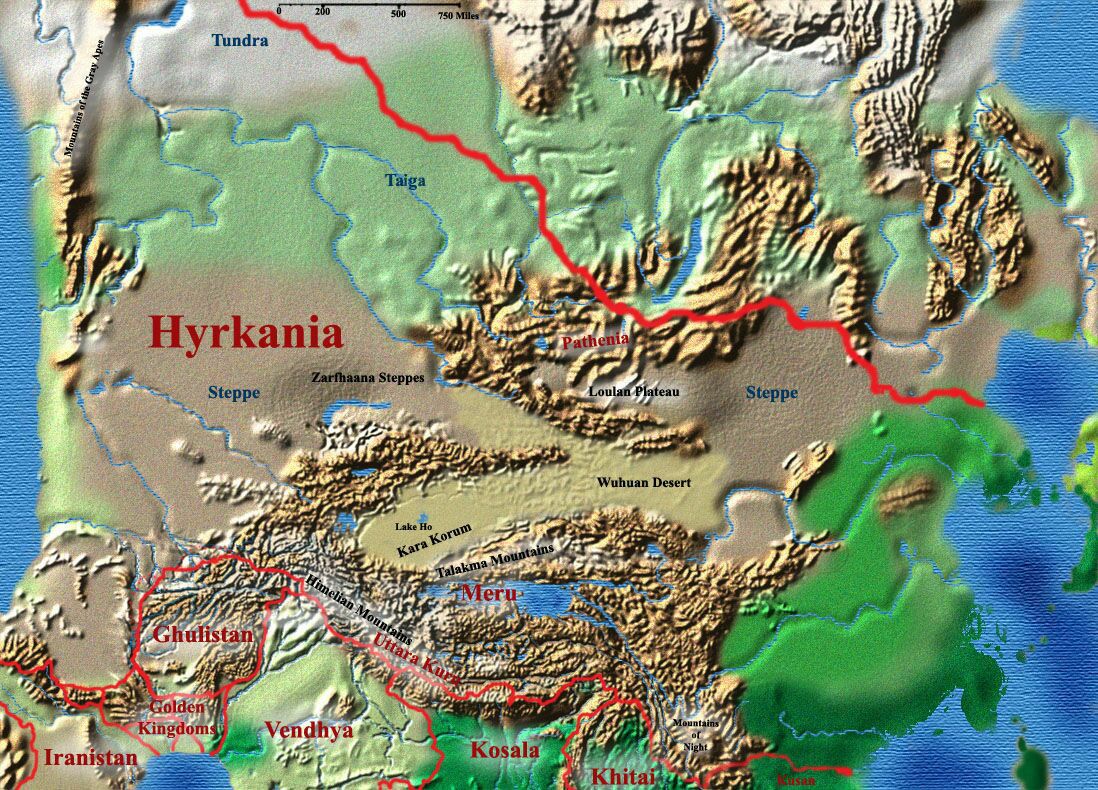 ---
Who is online
Users browsing this forum: No registered users and 5 guests